The Minister of Tourism, Arts and Culture (MoTAC), Hon. Catharine Abelema Afeku has commended Miss Tourism International Africa 2017 in the person of Ms. Daniella Akorfa Awuma and other two award winning Ghanaian beauty pageants, for their sterling performances in raising the flag of Ghana high, in their various beauty competitions on the International stages.
The delegation was led by Ms. Daniela Akorfa, who won the 2017 Miss International beauty pageant held in Tokyo, Japan. The others were Miss Tourism International Ghana 2016, who was in the person of Ms. Benedicta Nana Adjei and Miss Tourism Universe 2017, Ms. Portia Ayisha Bugri, who also won her converted prize in Philippines.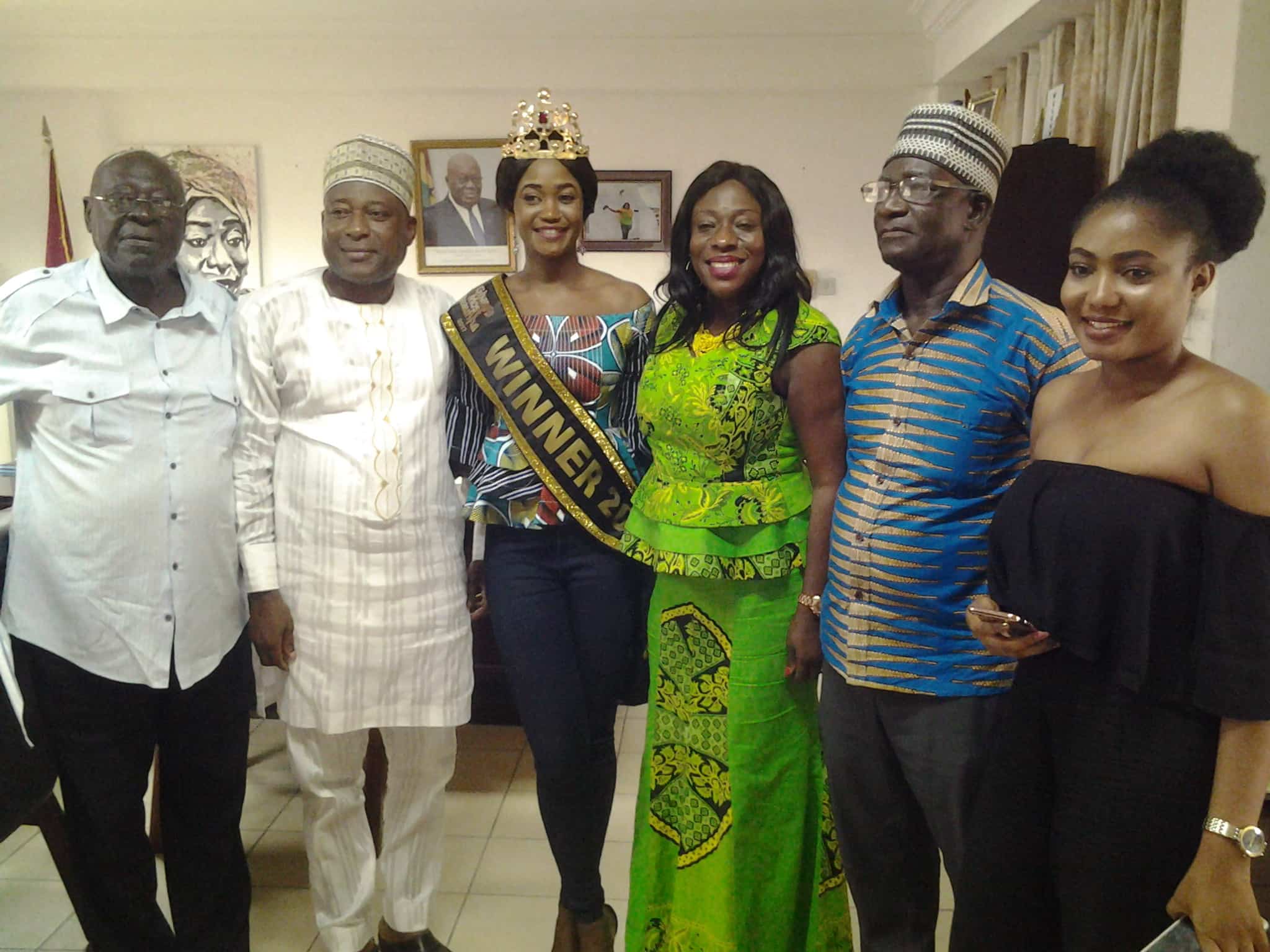 The delegation were accompanied by Mr. Makafui Seshie the Head of Youth Development, a private institution which specializes in nurturing budding girls in the area of beauty fashion, as well as the Director of events and operations of Ms. Akorfa, Mrs. Delphine Brew-Hammond.
An elated Minister of Tourism who was apparently enthused about the success chalked by these international beauty icons, assured them of her ministry's unflinching support in enabling them execute the projects they intend to carry out which would gear towards aiding the government to alleviate the plights of many young girls in Ghana.
On his part, the Deputy Minister of Tourism, Arts and culture, Dr. Ziblim Iddi Barri, who was also at the brief but all important ceremony, also entreated the award-winning beauty pageants to stay focused on their vision and the sky would ultimately be their limit of achieving their dreams.
He further encouraged them to endeavor to pursue their highest academic aspirations in order to become responsible women of substance for the country.
On her part, the Director of events and operations of Mrs. Akorfa, Mrs. Delphine J. Brew Hammond, also emphasized that Miss Akorfa and her colleagues have worked tirelessly in achieving their laurels and therefore, deserve commendation from Ghanaians for raising the flag of Ghana high on the International scene.
She used the rare occasion to commend the Ghana Ambassador to Japan, His Excellency Ambassador Sylvester Allotey-Parker, his wife and the entire working staff of the Ghana embassy in Japan, for their unwavering support extended to Ms. Akorfa Awuma throughout her period in Japan.
In a related development, the 2017 converted winner of the Ghana most beautiful (GMB) Ms. Zeinab Abdul Mumin, also paid a courtesy call to the Ministry of Tourism Arts and Culture, where Hon. Catherine Abelema Afeku, and her able Deputy Minister Hon. Dr. Iddi Ziblim also used the brief but symbolic occasion to admonish Zeinab to continue to be the touch bearer the young women in Northern Ghana and the country as whole need, to emulate her shining example.